Adams Institute News Archive
---

March 2020 – The recipient of the 2020 Ralph N. Adams Award in Bioanalytical Chemistry at Pittcon is Nancy Allbritton, Frank & Julie Jungers Dean of Engineering and Professor of Bioengineering at the University of Washington in Seattle. Her research focuses on the development of novel analytical technologies for biomedical research. Companies formed from her research innovations include Protein Simple, Cell Microsystems, and Altis Biosystems.

January 2020 – KU Chemistry welcomes Meredith Hartley, the department's new assistant professor of bioanalytical chemistry who is beginning her faculty appointment at KU in the Spring 2020 semester and joining the Adams Institute's consortium of researchers. Dr. Hartley comes to KU having completed a postdoctoral fellowship at Oregon Health & Science University in the Department of Physiology and Pharmacology's Program in Chemical Biology. She received a Ph.D. in Biological Chemistry in 2011 from the MIT under the direction of Barbara Imperiali. Her research goals are focused on the intersection of endocrine regulation, lipid metabolism, and neurological disease.

October 2019 –Sue Lunte, Ralph N. Adams Distinguished Professor of Chemistry and Pharmaceutical Chemistry and Director of the Adams Institute, is part of the Top 100 on The Analytical Scientist 2019 Power List. The Power List celebrates the tremendous range of talent, ingenuity and leadership present across all corners of analytical science, by highlighting the pioneering work and passion of 100 leaders in the field. To identify the top scientists in the field, the publication held open nominations before the candidates were whittled down to the final 100 by a panel of independent judges.
Interviewed by the journal, Dr. Lunte reported that the highlight of her career was becoming the Ralph N. Adams Professor of Bioanalytical Chemistry at KU: "Buzz Adams was an incredible scientist and person. I had the good fortune to know Buzz and work for two alumni from his group (Pete Kissinger and Ted Kuwana). It's a great honor to have a professorship and run an institute with his name."

September 2019 – KU's Chemistry Department welcomed its second Adams Lecturer on September 6, 2019, as Robert T. Kennedy, the Hobart H. Willard Distinguished University Professor & Chair of Chemistry and Professor of Pharmacology at the University of Michigan, visited campus and gave a presentation on "The Nanoliter Lab: Droplet Microfluidics for Screening and Sensing." Dr. Kennedy was presented with a framed, commissioned characture of Ralph "Buzz" Adams and a reception was held after his lecture at the top of the Oread Hotel on campus with faculty and students.
The Ralph N. Adams Lectureship was established in 2017 to maintain cognizance of Dr. Adams's contributions as a scientist, mentor and humanitarian. The lectureship is jointly organized by KU's Department of Chemistry and the Adams Institute, and was made possible thanks to funding generously donated by two Adams research group alumni, Donald W. Leedy and Theodore Kuwana.

September 2019 – Mei He (Assistant Professor, KU Chemistry and Chemical & Petroleum Engineering) has been awarded a 5-year, $1.89M MIRA (R35) grant from NIH for her research on "3D Biomimetic Lymph Node Engineered Extracellular Vesicles for Understanding the Heterogeneity of Adaptive Immunity." NIH's MIRA research grant program aims to increase the efficiency of NIGMS funding by providing investigators with greater stability and flexibility through these longer-term, more sizable awards. For more details on Dr. He's MIRA-funded research, please see the news release in KU Today.

September 2019 – Karen Nordheden, Associate Professor of Chemical & Petroleum Engineering and an Adams Institute-associated faculty member at KU, is the recipient of a 2019 Chancellors Club Teaching Professorship, which recognizes outstanding educators for their dedication to excellence. For more details, please see the news release in KU Today.

August 2019 – Bob Dunn, Professor of Chemistry, began his appointment as the department's new chair this semester as the previous chair (Brian Laird) had completed his term. Dr. Dunn is among a number of faculty in new leadership positions for departments, programs, centers and schools in the College of Liberal Arts & Sciences this academic year.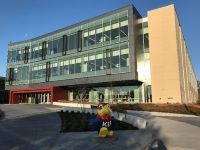 May 2019 –The Adams Nanofabrication Facility has completed its move to a newly constructed, more centrally-located facility on KU's main campus! The facility, formerly known as the Adams Microfabrication Facility, has relocated from the Multidisciplinary Research Building on KU's West Campus to a new, significantly larger cleanroom space within the Integrated Science Building in KU's Central District called the KU Nanofabrication Cleanroom Facility.
This facility consists of roughly 10,500 sq.ft. of cleanroom space and additional office space for staff and users. Within the facility, the existing microfabrication capabilities in place in the facility are combined with groups doing nanofabrication work on campus, including nano-scale lithography and metrology tools contributed from the labs of Dr. Steven Soper, Foundation Distinguished Professor of Chemistry and Mechanical Engineering at KU. The expansion of available process technologies in the this facility will enable faculty, students and local businesses to develop novel devices and new materials for clinical chemistry and biomedical applications.

March 2019 – Associate Professor Yong Zeng's "lab-on-a-chip" for "liquid biopsy" research was featured in a March 21, 2019 post on Dr. Francis Collins's NIH Director's Blog. This research, originally reported in a February 2019 issue of Nature Biomedical Engineering, focuses on detecting exosomes (tiny parcels of biological information produced by tumor cells to stimulate tumor growth or metastasize) using a 3D nanoengineering method that mixes and senses biological elements based on a herringbone pattern commonly found in nature.

March 2019 – Steve Soper, Foundation Distinguished Professor of Chemistry and Mechanical Engineering at KU, has been been inducted into the College of Fellows within the American Institute for Medical and Biological Engineering (AIMBE) for his work in the field of biomedical microfluidic devices with potential to revolutionize diagnosis and monitoring of cancer patients. For more details on AIMBE's honor of Dr. Soper, please see the news release in KU Today.

March 2019 – The recipient of the 2019 Ralph N. Adams Award in Bioanalytical Chemistry at Pittcon is Weihong Tan, Distinguished Professor and V. T. and Louis Jackson Professor of of Chemistry at the University of Florida. Dr. Tan is a leading scientist in analytical chemistry, chemical biology and molecular medicine and has made exceptional contributions in the discovery, development and applications of novel molecular probes and analytical methods. He is also an adjunct professor in the departments of biomedical engineering and chemistry at Hunan University and serves as an Associate Editor for JACS.

November 2018 – The Department of Chemistry at the University of Kansas is proud to announce the start of a new lecture series in honor of Ralph Adams. R. Mark Wightman, Professor Emeritus of Chemistry at the University of North Carolina – Chapel Hill was selected as the Department's inaugural Ralph N. Adams Lecturer. Dr. Wightman visited campus on November 15-16, 2018 and graciously gave two talks to kick off the lecture series: a public lecture on November 15 on "Detecting Catecholamines--A Journey from Beaker to the Behaving Brain" and a scientific lecture on November 16 on "Chemical Monitoring of Neurotransmission with Microelectrodes." An open reception was held after his public lecture in the atrium of the new Integrated Science Building.
This new lecture series has been made possible through a generous gift from two of Dr. Adams's graduate students, Don Leedy and Ted Kuwana. Dr. Wightman is a fellow Adams group alumni, having been a postdoctoral associate under Dr. Adams at KU from 1974-1976.

June 2018 – Mei He (Assistant Professor, KU Chemistry and Chemical Engineering) and members of her research group are authors of a journal cover story for the June 21, 2018 edition of Lab on a Chip. The research image chosen for the journal's cover illustrates work in microfluidic engineering of exosomes as described in the article, which is included in two of the Lab on a Chip journal's themed collections: Lab on a Chip Recent Review Articles and Personalised Medicine: Liquid Biopsy.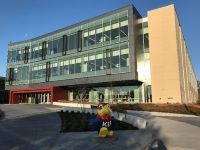 May 2018 – KU's Chemistry Department has officially begun its move to the new Integrated Science Building in the Central District on main campus! The department's main office is moving first, to be followed by Chemistry's teaching and theory research faculty. All Chemistry teaching labs are located in ISB and will be ready for use by the start of Summer 2018 classes. Throughout the summer, the remainder of Chemistry research faculty will move from Malott Hall to ISB, along support lab staff and others.

March 2018 – Sue Lunte, Ralph N. Adams Distinguished Professor of Chemistry and Pharmaceutical Chemistry, will be the 2018 recipient of the ANACHEM Award at the FACSS/SciX Conference October 21-26, 2018 in Atlanta, GA. The award, established in 1953, is presented annually by the Association of Analytical Chemists (ANACHEM) to an outstanding analytical chemist based on activities in teaching, research administration or other activity which has advanced the art and science of the field. More information about the history of the award and past recipients can be found on ANACHEM's website.

February 2018 – The recipient of the 2018 Ralph N. Adams Award in Bioanalytical Chemistry at Pittcon is Chad A. Mirkin, the Director of the International Institute for Nanotechnology and the George B. Rathmann Prof. of Chemistry, Chemical and Biological Engineering, Biomedical Engineering, Materials Science & Engineering, and Medicine at Northwestern University. Dr. Mirkin is a chemist and a world-renowned nanoscience expert, who is known for his discovery and development of spherical nucleic acids (SNAs) and SNA-based biodetection and therapeutic schemes, Dip-Pen Nanolithography (DPN) and related cantilever-free nanopatterning methodologies, On-Wire Lithography (OWL), and Co-Axial Lithography (COAL), and contributions to supramolecular chemistry and nanoparticle synthesis. He is the author of over 680 manuscripts and over 1,000 patent applications worldwide (over 300 issued), and he is the founder of multiple companies, including Nanosphere, AuraSense, Exicure, and TERA-print, which are commercializing nanotechnology applications in the life sciences, biomedicine, and semiconductor industries. Mirkin has been recognized with over 120 national and international awards, including the RUSNANOPRIZE, the Dan David Prize and the inaugural Sackler Prize in Convergence Research.
January 2018 – Co-authors Mei He (KU Chemical Engineering, Chemistry) and Yong Zeng (KU Chemistry) received a 2018 SLAS Technology Readers Choice Award for their paper on "Microfluidic Exosome Analysis toward Liquid Biopsy for Cancer," reflecting the article's popularity among readers through the year 2017. Originally published in the August 2016 issue of SLAS's Journal of Laboratory Automation, the paper reviews the state-of-the-art development of microfluidic technologies for exosome isolation and molecular characterization with emphasis on applications toward liquid biopsy–based analysis, and shares the authors' perspectives on current challenges and future directions of microfluidic exosome analysis.